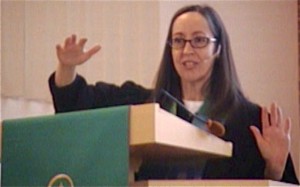 One of the techniques we've developed at Grace Commons is to read a scripture while inserting commentary as you go.
People have told me that this is similar to expository preaching, although I've never learned about that specifically.
I find that many people are hungry to better understand biblical stories, and definitely want to un-do the damage done by bad application of biblical texts.
In a nutshell, in this 15 minute sermon, which I preached in February 2011, I explain how the cultural context in Jesus's day is vitally important in our interpretation of the "Love your enemies" story.
(Oh, and I should say, I preached this as a guest preacher in a traditional church. At Grace Commons I don't preach like this in a robe and from a pulpit. I sit with the people and wear regular clothes.)
This "love your enemies" bit is part of Jesus's sermon on the mount and I believe it is a call to dignity for all human beings.
In this sermon I also reflect on the idea that God is "omni-partial" to all creatures and all of creation…an idea I got (and like!) from process theology.
The bible should never be used as a weapon, and if our interpretations of the text lead us to act in ways which are unkind or ungenerous, we should question our interpretation.
Specifically, regarding this admonition, "love your enemies," Jesus is not calling us to allow people to disrespect us. Jesus is calling us to act with dignity and strive to treat all human beings with dignity.