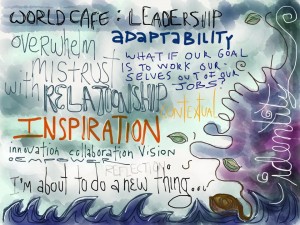 I just returned from a 3-day leadership consultation with the national offices of the Presbyterian Church (USA). My good friend and colleague, Rev. Shawna Bowman was there too. She wrote/drew the amazing notes above, while we were talking about new things that are happening or that we wish were happening in the churches.
The gathering left me very hopeful about the larger church beginning to shift into a more creative era which addresses and engages our contemporary age more effectively. I met many inspiring leaders who are trying new things and facing many of the same challenges faced by Grace Commons.
One new friend is Dawn Hyde, the pastor at Mission Bay Community Church. She wrote a nice overview reflection on our group time in Baltimore this week. You can read it here. In part, she said:
"I am renewed in my belief that God is still working among us and that we now have better ideas for how we can share our resources (intellectual, financial, artistic, and physical) with one another. We dreamt together about PCUSA TED talks, Craigslist for the church, church partnerships, funded sabbaticals and rest, organic new ministries found and funded quickly. We reflected on how we are called to be open… to God, to each other, and to this new reality that we experience in the church. We worshiped together and gave life and breath to words of Isaiah 43 "Do not be afraid. I have called you by name you are mine… [PAY ATTENTION] I am doing a new thing."
What I love is that it's not just pastors and leaders in emerging or "presby-mergent" churches that are doing new things. Pastors in traditional churches of all sizes are trying to do new things, too.
So I hope we'll be able to develop some ways to share our resources better and quicker and support each other's dreams and creativity.