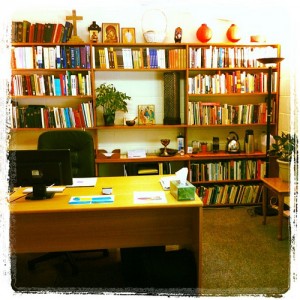 Today is day 5 of my 10-week sabbatical, and I'm slowing easing into the new reality.
My big goals are creativity and healing, with lots of littler goals in each category. Here are some of the things I'm trying to achieve and experience this summer. The two are really one, because my healing allows me to create and creating heals me. But, as an exercise, I'll try to put these in two lists.
Healing:
Deep clean my house and purge. I need less clutter and more spaciousness in my world.
Beautify my house (which is a rental apartment). This will include reorganizing and some painting.
Exercise and experience the fun in it. This will include biking, yoga, walking in the park, trying new classes at the gym (zumba, cycling training, aquafit)
Have dinner with friends. Laugh. Listen to music.
Visits to various healers: integrative acupressure, cranial sacral work, chiropractic care
Eating well. This will include learning about and making fermented foods and cooking with sprouted foods. Eating and preserving fresh foods this summer. Learning new recipes and establishing new habits around food. A lot of this will be detailed on my food blog over at Nanette's Kitchen. (My first sabbatical post is up over there. "Making Kombucha")
Digital purging and retooling. This will involve organizing my files and learning how to use the Cloud and other new technologies.
Reading for pleasure. This includes fiction in audiobook form.
Laying on the grass. Watching water.
Sleeping (I musn't forget to do this!)
Letting go of everything on this list. Because letting go is one of the biggest healings I need.
Creativity: This is a major part of my healing.
Blogging and practicing being free, yet focussed in this work/play/self-expression.
Playing with paint: oil sticks and paper 53 digital painting
Cooking, fermenting foods, photographing it.
photography, taking pictures of friends and nature
Visually improving both my blogs. Integrating my photography.
Sleeping. Because I am better at creating when I am rested.
Okay. That's a ridiculous list. But it's helpful to see that all these things are spinning around in my head and my hopes.
Is it any wonder that one wise woman at my church said on my last Sunday there, "Now Nanette, don't try to do too much on your sabbatical"? Now that, right there, is wisdom.