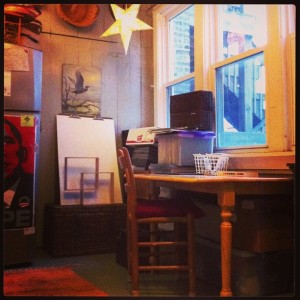 I purged piles of junk to turn this back porch into an art space. I need more open spaces in my life.
Letting go, letting go, letting go…
One of my goals for sabbatical is to clear out my home, to purge, to let go of years of accumulated papers, books, unused dishes, candlesticks, unfinished projects, empty tins/boxes/containers, unworn clothing, extra blankets, overworn sheets, yellowed pillow cases, garish towels, etc, etc, etc.
So many ethical questions come up in this process. I have two competing value systems at war within me. On the one hand, I have my Grandpa Sawyer's basement in mind, where he saved every bolt, screw, and scrap of wood because it might be just the item he would need to complete a project. He was the one who made a cider press out of an old motor, bent nails, wood pallets, and a cranking jack to grind and press a hundred pounds of apples at the back door of the cellar. This contraption was one of the coolest things I have ever seen and the memory of that apple cider still fills me with delight. That golden cider would pour out into buckets and was the sweetest stuff I have ever tasted.
Things can be reused, see? They can be repurposed.
I think this is a wonderful attitude, and one that has lost too much ground in our over-abundant North American, 21st Century context. We consume too much and I am part of that. Sometimes we could use what we have more effectively.
On the other hand, "time is money" a friend told me recently, and I don't have time to fix all the things that need to be fixed. I often "don't have time", but have sometimes "made time" to go to the hardware store to find the two oddly sized screws that will allow me to salvage the old vaporizer instead of throwing it away and buying a new one for $20, simply because the poorly selected original screws corroded within a year.
Or maybe those screws were selected purposefully…for planned obsolescence. It makes me so frustrated, and I know it's a trap to make me buy more new things. But I fall into the trap, time and time again.
Save, or discard?
Take the time to fix it, or (more realistically?) let it go? Or, slow down more often and spend more time maintaining my physical world (stop wasting?)?
A great meditation teacher of mine once said that our "stuff" is not our problem. (She was responding to people complaining about dealing with the clutter in their lives.) She said our problem is our addiction to "dealing" in stuff. Our addiction to stuff.
I felt the resistance rise up in my chest. No, I thought, my problem is my stuff. But as I reflected more, I realized she was right.
I can purge my life right now, on my sabbatical, but if I just re-start the system and begin accumulating new stuff, then I'll be back in this situation again in 5 or 10 years. So I have to ask myself some underlying questions about my addiction to dealing in stuff.
When will I ever have "enough" of anything to be happy? This includes stuff, but it also includes time. Am I running from "here/now" to an imaginary place where everything is easy, beautiful, and abundant? Sometimes I don't need more, new stuff to get to my imagined future. Perhaps I need to adjust my perspective.
And the second big question is, when I am finished with something, why is it so hard to let it go? Can I trust that the present and the future will supply me with what I need, without clinging to the past?
How can I find ease, beauty, abundance, in here, now? How do you?