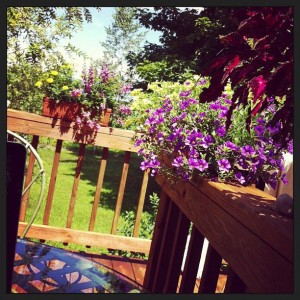 Yesterday was my last full day on writing retreat. As soon as I post this reflection, I will get into the car for the long car ride to Tennessee for a few days with my parents, 2 sisters, 1 brother, all their significant others, and a variety of nieces & nephews.
As much as I love my family I am not ready to leave this place. Of course, I was not ready to leave home to come to this place either! It seems I am never quite ready for the next thing.
Transitions are hard, especially when they involve letting go of something that we love.
This retreat has been so good for me. I love the beautiful rural setting here. I've begun writing a novel! I've gazed at beautiful flowers, rested, gone for a couple of great long walks, had a short vacation in Boston with Andrea (who flew out here to Massachusetts from Chicago), and had long talks over delicious meals with my host and beloved friend, Ani. I've also helped Ani launch a website, learning reams of things that I'll use to improve this one.
It's all been so healing and important. But maybe the most important thing has been learning (practicing?) to trust my heart as a writer as I step out into the world of fiction writing.
I've been using this book, The 90-Day Novel, by Alan Watt, and it's stupendous. One of his points that I keep repeating to myself and trying to trust, is that there is a story in me that wants to tell itself through me. He doesn't say it that way, but that's the gist of it.
I have been wanting to write a young adult novel for years and years and years. So now I am feeling my way into that. It's definitely tied to my vocation as a pastor and teacher and artist. I'm letting the characters of my story meet each other and I'm playing with them a little to see what's brewing inside me…
And speaking of brewing, I have a new post up over at Nanette's Kitchen about my on-going adventures in Kombucha Brewing.
And now…onward in the journey. Ready or not, go!